Is a technician the same as a mechanic?
Remember when 'mechanic' was a dirty word? A mechanic would typically be portrayed with grease down their overalls, they used to fix cars with little or no explanation about the work they were carrying out and drank more cups of tea than they actually serviced vehicles. We're changing that. In fact, times have moved on so much since the days of the 'greasy mechanic' that we don't even call them mechanics anymore – they are technicians. Why? Because 'mechanic' just doesn't do them justice any more. Vehicles have moved on at lightening pace over the last few years. Electrics have become more complicated, engines are more sophisticated and often, a simple toolkit just doesn't suffice. Today, garages need diagnostic equipment and access to the latest technical training courses.
Just to put into perspective the way that we have moved the motor industry forward in recent years, below are five typical connotations of a mechanic and five genuine traits of technicians. Which one would you want looking after your vehicle?
Typically, a mechanic would:
Throw multiple spare parts at a problem until they came up with a quick and easy fix – usually cheap "pattern" parts of dubious quality but high profit margin
Have the opening line 'I can fix it, but it's going to cost you', no matter what the problem was – usually accompanied by a sharp intake of breath!
Have a shaved head, but don't be fooled; this isn't to keep up with the latest catwalk trend, but it's quicker to wash the grease out like that
Not have "nice" clothes, as everything on a mechanic is stained heavily with oil- much to the dismay of their washing machine and the customer's car
Measure time in cups of tea, and a mechanic can't possibly start until the first cup has been drunk
An Automotive Technician….
Has clean clothes all the time because they protect themselves and your car with clean overalls, wing covers and seat covers – treating you and your car with respect
Views "can you fix this?" as a fresh new challenge, rather than a question
Identifies faults by using a logical process and sophisticated equipment supported by a significant investment in technical training and personal development – and explains in detail to you what the problems with your vehicle are before carrying out any work
Is completely transparent about pricing and quotes for any work before they undertake it. Will always offer you a choice of genuine manufacturer parts or "matching quality" parts from a reputable supplier
Can be trusted to provide you with an honest and professional service, every time you visit them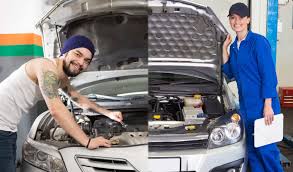 Auto mechanic role
One glimpse at the word auto mechanic reveals the nature of the job as it involves the mechanical aspects that come with repairing vehicles. Historically, that involved the basics of auto repair and developed the stereotypical image of a mechanic working in a garage while being stained with grease. However, that is not the case in the present day.
Vehicles have been advancing at an extremely rapid pace. It no longer takes a wrench and socket set to fix engine problems. Computerized systems have become so integrated with engine systems that there is a higher level of sophistication in the way vehicles function. All repair shops must now be equipped with diagnostic tools that are specific to auto repair. That means anyone working on a vehicle will need to know how to use these advanced tools, thus diminishing the old image of a traditional mechanic.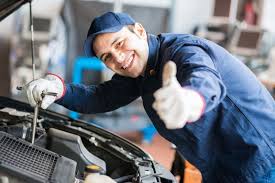 Auto technician role
The mere title of auto technician implies that the job is comprised of technical components. There is no denying that there are a lot of diagnostics involved with repairing newer vehicles, which makes it essential to understand how all of those parts work cohesively. Auto technicians are skilled in diagnosing engine problems and also use the latest diagnostic tools in the process. However, their work does not end there.
Repair shops are not going to hire an automotive technician to simply diagnose problems and then hand off the second part of the job to someone who is labeled as an auto mechanic. Auto technicians typically take care of the diagnosis and repair. Otherwise, it would cost a repair shop much more in terms of paying its employees.
The term technician seems to carry more respectability, although it may be a case of mere semantics. In many repair shops, auto technicians perform the same duties as auto mechanics. In some instances, auto technicians have a bit more experience. Entry-level mechanics may attend to simpler tasks, such as oil changes and tire rotations. However, auto technicians may be more suited to provide more in-depth diagnosis and repair. A lot still depends on the level of certification as that is a telling sign of how skilled an auto technician may be.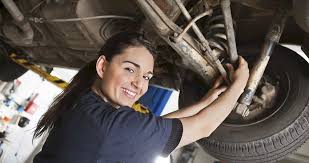 What Is the Difference Between a Maintenance Mechanic and a Maintenance Technician?
While maintenance mechanics and maintenance technicians are very similar roles with similar responsibilities, there are some subtle differences. Both positions include repairing and maintaining various types of machinery. However, a technician is more likely able to tell you exactly why a certain part of that piece of equipment broke or required fixing, whereas the mechanic may not be able to explain it. The technician may possess more knowledge in the problem diagnosing department. For example, an auto technician is trained to use the vehicle's computer system to fully understand and identify the issues, whereas a mechanic may just be trained to fix the problem.
What Do Maintenance Mechanics Do?
Maintenance mechanics can do a wide variety of tasks depending on their chosen niche. If you work in construction, you should know how to maintain and repair a variety of structures from roofing, concrete work, framing, cabinets, windows, and doors, to general construction practices, carpentry, and more. Duties may require plumbing knowledge, so you should have an understanding of pipework, quality standards, design, and how to read blueprints and technical plans. Qualifications for this career can include experience with many kinds of equipment and power tools. Strong mechanical aptitude and an understanding of different motor types, HVAC systems, and utility or industrial equipment are also crucial for this job.