Garage Flooring Options – Top 5 Recommended Options
A person hardly recognizes the flooring importance for garages. The flooring of garage generally undergoes high pressure due to the heavy vehicle movements. The floors get stained easily making the entire surroundings look unattractive. Planning for garage flooring is as important as planning flooring for your home. You can utilize garage as another room in your home. Not all flooring options available in the market are suitable for garages. Resilient, hard, and durable flooring that can withstand any weather and resistant to stains is recommended for garages as flooring options.
Top 5 Recommended Flooring Options For Garages
1. Polished Concrete Flooring – The Best of All
Polished concrete flooring is the best option for garages. Concrete flooring is generally hard and resilient. They can perform under high pressure without any wear and tear. Concrete floors are less priced and are easily available for customers with low budgets. Polished concrete surfaces look graceful and elegant that compliments the entire semblance. Polished concrete finishes are generally stain-resistant and easy to clean making it the best option for garage flooring.
2. Epoxy Flooring – The Smart and Feasible Option
Epoxy flooring is quite feasible and a smart choice for existing flooring. Epoxy is a tough and long-lasting coating that can be used on any flooring. It can be used on concrete floors; stone floors any floor to increase its performance and durability of your garage floor. Epoxy flooring is available in many attractive colors and can be cleaned easily. Before trying to go for epoxy make sure your subfloors are resistant to moisture and no dampness is observed. Epoxy is not suitable for the floors that absorb moisture.
3. Rubber Tile Flooring – Easy to Install or DIY Option
Rubber tiles are available like flexible mats and tiles. This type of flooring can be easily installed and is a good option for DIYers. Rubber floor tiles are flexible and come in attractive interlocking patterns to provide extra strength and stability to the floors. These are mostly available in the dimensions of 12×12 inches or 24×24 inches. Rubber tile flooring requires less maintenance and can be cleaned easily. The most feasible option at a reasonable price is rubber tiles. They can withstand any climatic conditions. These floors can be installed on any sub-floors especially concrete floors.
4. Vinyl Flooring – For Low Traffic Garages
Selecting vinyl flooring for garages is not at all a wrong choice. If your garage doesn't face much traffic and heavy pressure then enhanced Urethane coated vinyl tile flooring is the best option. These tiles are flexible and comfortable. You can enhance a unique look to your garage by picking the multiple color shades and attractive vinyl composite tile flooring available in the market. Vinyl flooring requires very little upkeep and cleaning is extremely easy and comfortable with the cleaning agents available at home.
5. Stone Flooring – Excellent but Expensive Option
Stone flooring like sandstone, graphite, and flagstone are excellent choices for garages but are a bit expensive. Stone flooring is extremely cold in winters hence considering your budget and local climatic conditions are vital before going for stone flooring for your garage. Stone flooring is resilient and extremely hard and available in eye-catchy designs and pleasant colors.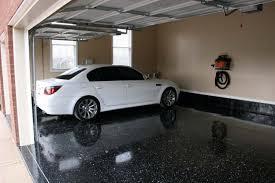 Preparing Your Garage
If you've gone through the list above and decided epoxy is still a good option, you need to pick a warm, dry day to apply the coating; the temperature should fall between 60 and 90 degrees.
First, empty your garage. The entire floor should be cleared before you begin. This project could last up to five days, so you may need to rent a storage facility for your items temporarily. If you're having a professional apply the covering, they may provide a storage unit for you.
Next, you'll need to thoroughly clean the floor. Scrub and remove stains and debris using a concrete cleaner/degreaser, then vacuum it all up so the product doesn't flow into the sewers. After vacuuming as best as you can, use a hose to spray out your garage and driveway. Then, sprinkle the floor with an acid/water solution, ensuring to carefully follow all safety precautions, and scrub the floor again. Rinse with water, flush, and squeegee, then let the floor dry overnight. When you come back to it the next day, it should be white.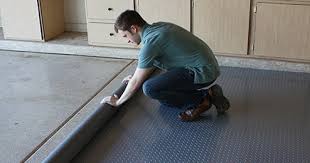 Can Epoxy Flooring Be Used Outside?
I'm sure you've heard of epoxy flooring, but perhaps you thought it could only be applied to indoor flooring, like garages, retail stores, and showrooms. Maybe you have asked yourself, "Can epoxy flooring be used outside?" The answer is YES. Epoxy floor coatings are great options for outdoor spaces because of its durability and ability to withstand the outdoor elements.
When deciding on outdoor flooring you should consider epoxy flooring because it offers a safe, attractive, and low-maintenance option for your outdoor space. It is easier to clean than concrete alone and can be easily cleaned with a bucket of warm soapy water and a mop, or even a hose can sometimes do the job!
Epoxy Floor Coatings Outdoors
There are numerous benefits to choosing to apply epoxy floor coatings outdoors but it is oftentimes best to hire a professional for proper installation. If the job is not done right the first time additional applications may be required.
Epoxy flooring makes an excellent option for your outdoor concrete walkway and is even a great choice for your pool deck. Chief benefits of applying epoxy floor coatings outdoors are:
Durability
Curb appeal
Impenetrable and seamless
Textured surface and safe
You will not regret choosing epoxy flooring for your outdoor space, it offers a clean and attractive look with many advantages. You can even choose from different custom designs and color options to make it completely your own. With so much versatility and benefits you will be happy that you chose to install an epoxy floor coating outdoors!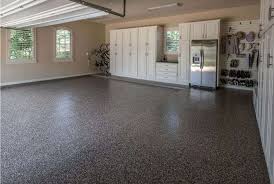 What Are Epoxy Countertops?
Epoxy is primarily used as a refinishing product. Applying a coating of this material can help restore or revitalize old, worn, or out-of-style bathroom countertops, kitchen countertops, and floors.
So, you can't really go out and buy pre-made epoxy countertops or slabs like granite, quartz, marble, or laminate countertops. They must be made in place.
Although, interesting to note… Corian is a resin-based countertop material, and epoxy is considered a solid-surface countertop as well.
It's a popular choice for refinishing due to the durability of the epoxy resin. It can resist scratches and provide years of use before the surface dulls. It can also tolerate most cleaning materials without losing its luster.
You can apply epoxy over most countertop materials, including:
Formica
Laminate
Ceramic
Metal
Wood
Concrete
Are Epoxy Floors Slippery? Are They Safe?
Epoxy flooring is a rapidly growing trend for homeowners, who appreciate its attractive appearance and easy-to-clean finish. It looks much finer than bare concrete, and it holds up far better than paint. Additionally, it has excellent stain and abrasion resistance, and it can cover up cracks and defects in the surface of the floor. With all the talk of epoxy floors going on, homeowners want to know: are epoxy floors slippery?
Any high-gloss surface is bound to be slippery when wet, including epoxy floors. This may not matter in a basement or workshop, if water is not likely to be on the floor regularly. It also is fine for garages in Arizona and southern California. Here in New Jersey, however, rain and snow get tracked in, and in the wintertime, snow melts off your car and onto the garage floor, creating a slipping hazard.
Fortunately, there is a solution to the problem. Epoxy floors can be laid down with anti-skid additives, including silica sand, pumice, colored quartz, or polymer grit. There is a tradeoff involved, because the added grit will detract from the high-gloss "showroom finish" that many enthusiasts are seeking. If you are thinking about installing an epoxy floor in your home, talk to a knowledgeable contractor first.