Cost of Installing a Bathroom Suite
Installing a new bathroom suite is one of the major investments a homeowner has to make at least once over the ownership of a property.
The costs can vary, depending on whether you decide to do the work yourself or engage the services of a specialist bathroom fitter. The skill set you will need to possess is extensive, from electrics to plumbing, painting and decorating. This article will provide you with some guidance on how much it will cost to fit a new bathroom.
DIY or Professional Bathroom Installation?
As mentioned earlier, one of the first decisions you need to make when it comes to a bathroom upgrade is whether you will do the job yourself, or appoint an expert. Unless you are an accomplished plumber, tiler, electrician and painter all rolled into one, finding an expert is the most cost and time effective way to go. When it comes to costs and a DIY approach, you may be able to control the cost of the individual items such as sink, toilet, bath or shower. However, the quality of the installation may not be as perfect because of the lack of required expertise.
Factors Affecting The Overall Cost of Bathroom Installation
Once you have decided to go down the professional installation route, the next step is to have an understanding of how much each component of a bathroom installation costs. This will permit you to compare prices on a like for like basis.
Electrical Work
Depending on how old your current bathroom is, you may be looking to upgrade the lighting to led spotlights, both for their nice look and lower running costs. Other electrical work may include installing a hand dryer, shaving socket, extractor fan and power shower. Typical costs can be around the mark depending on other variables.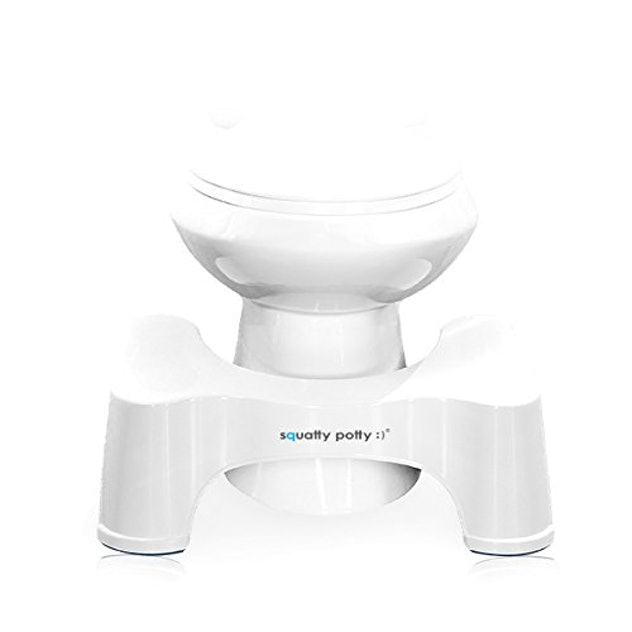 Brilliant Toilet Products That Will Improve Your Bathroom Life
Humans are a funny thing. People spend half of their effort trying to reconnect with their humanity, and the other half trying to cover up the natural functions that literally everyone has. Well, I'm not afraid to talk about brilliant products and accessories for your toilet that practically make it your throne, nor the essential functions that go on in it. Just like essential bacteria and the act of sweating, going to the toilet isn't always considered 'polite' table talk. But it's a necessary part of the body, and in my opinion, it's high time people got comfortable with it
In fact, back when I was taking nutrition classes, excrement was a topic that came up in pretty much 15-minute intervals. Anyone who's ever been a natural health practitioner knows it's the second thing you seem to disclose about yourself after your own name. It's estimated that we spend almost 92 days in the bathroom over the span of our lifetimes, and it's also been asserted that you can tell a whole lot about your health solely by looking at your poop. Consequently, it's time to get really comfortable in your bathroom, and these innovative toilet accessories can make things easier, more convenient, and significantly more enjoyable.
This innovative spray called Poo-Pourri Before-You-Go is made of essential oils, and its purpose is to create a smell-proof barrier on the surface of the water, in order to trap any and all smells in the bowl. Simply spritz the bowl before you go, do your thing, and flush away, leaving no indication that anything ever happened. It's also travel-friendly for storage in your pocketbook. "A must have at the office," says one reviewer. "This has taken the fear out of walking out of the bathroom and running into the person WAITING to go next!"
Recently, there's been tons of talk about how squatting while on the toilet is a much more natural and effective way to go, because it "[opens] the colon," making "elimination faster, more complete, and [less] straining." The Squatty Potty is a convenient little stool that lifts your legs up to the position, so you can lessen constipation and improve elimination. It comes in two sizes and fits any standard toilet.
If you're a midnight pee-er, this toilet bowl night light is going to save your retinas on a nightly basis. It's motion activated and light sensitive, so it only turns on in a dark room when there's somebody there, and it lights up 16 bright colors to give your bathroom a little style.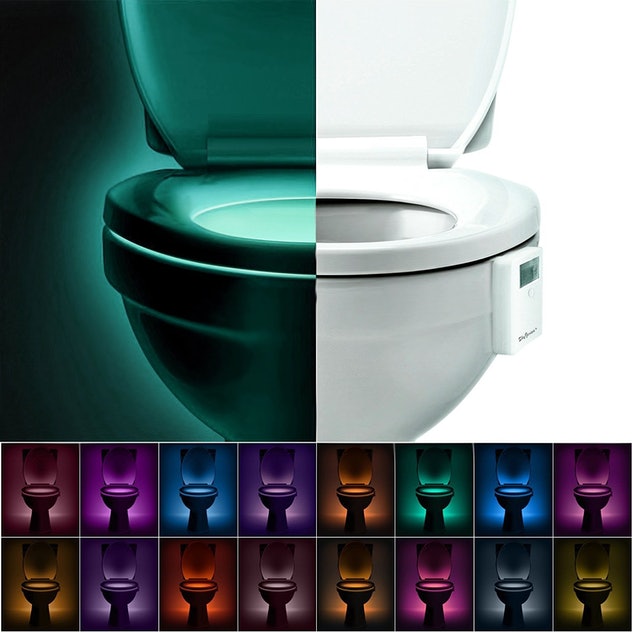 Bathroom Fitting
What order does everything happen in a bathroom refit?
I have a small 'L' shaped bathroom which I want to replace, as well as moving a stud wall back by about a foot to square off the room. I'm having a nightmare figuring out what order to do everything in so I can find the relevant tradesmen. Also, it's our only bathroom so I want it to be out of use for as short a time as possible. It just seems like I need half a dozen different people which makes things very confusing for such a tiny room!
The jobs to do are:
– Remove tiles
– remove bathroom suite
– Replace window in external wall
– Install ventilation fan in external wall
– Move internal stud wall
– Plaster everything
– Install new suite
– Tile
– Install lights
if you are going to employ people to carry out the above I would put the job up on my builder you will find a tradesman probably a builder who will organise and employ the different trades you will deal with one person pay one person get your guarantee from him the whole job will be carried out in far less time he will come with some previous work and be rated by other my builder customers but all the same do not pay all the money over until you are satisfied with the finished job.
Take the whole bathroom out including removal of all the tiles, wall paper etc. Inspect your walls and take a decision as to whether they can be tiled over. If you are to fully tile your bathroom you wont need to have the room plastered or skimmed, you will only need to dry line (dot and dab) the walls. PVA the plaster boards prior to tiling. First fix all the plumbing and electrics, ply line the floor (PVA this also) . Tile as much of the bathroom as you can before you install any of the product, then install the bath and shower tray and tile down too these. Grout the bathroom and then second fix the rest of the products, ie shower valve and radiator etc. Clean down and when the bathroom has fully dried out apply a very good quality silicone sealant (everbuild forever white). I would advise you to hire a bathroom installation company rather than individual tradesman as there will be someone in charge of the fit and would make sure the install went in correctly.
make life easier for yourself and employ a bathroom fitter like myself. Plenty on this site in all areas. Just click on bathroom fitting.
Note:You should have a compliance certificate for electrical work carried out in the bathroom so be aware you should get one.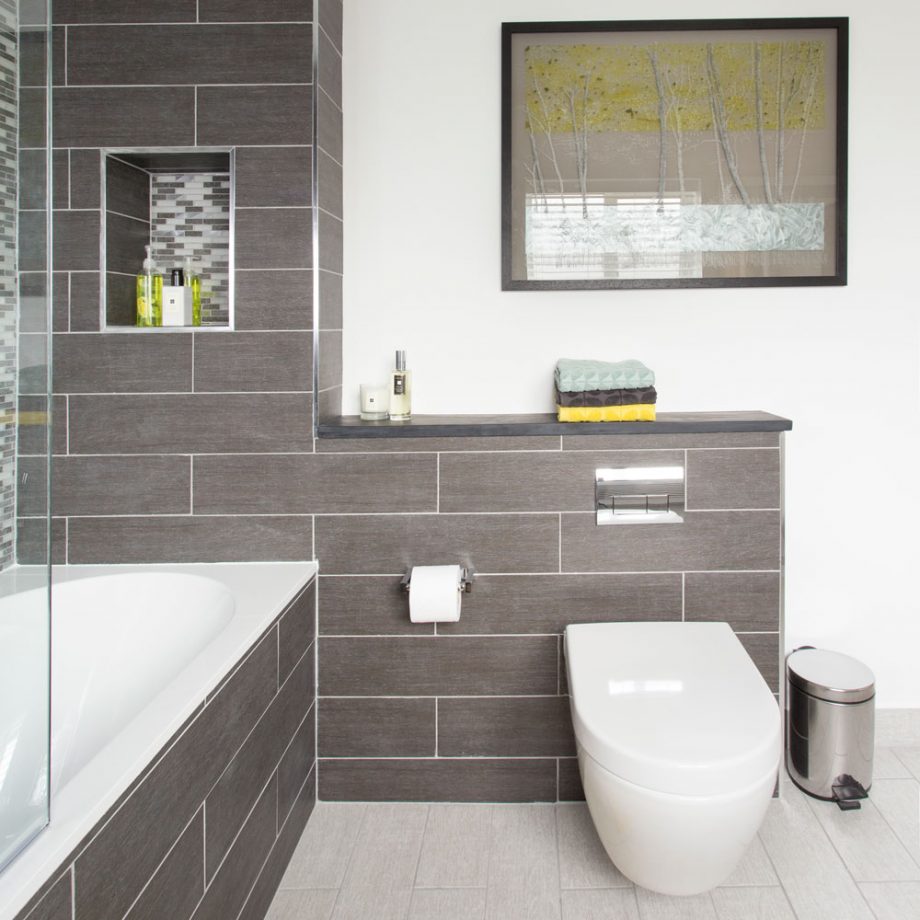 Installing Your Nature's Head Composting Toilet
for My Tiny House installation?
If you are using 110 volt house power, you will need our wall transformer. If using 12 volt, batteries and or solar, the toilet comes with the necessary parts. Our PVC vent assembly is an easy way to vent through the wall or floor.
for My RV installation?
The toilet comes with the 12 volt parts needed. Only if using 110, house power you will need our wall transformer to plug into an outlet to power the fan. The mushroom vent is an easy way to vent through the side or roof. The PVC vent is good for through the floor venting.You may already have an existing vent to connect to.
for My Cabin installation?
The toilet comes with everything for a 12 volt system. If using 110, house power you will need our wall transformer to plug into an outlet to power the fan.The PVC vent is a good way to vent through the wall or the floor on a raised cabin.
for My boat installation?
The toilet comes with the 12 volt parts needed. The venting, you can use the mushroom vent for cabin side or roof. It can also be used over an old pump out fitting hole.
Hose Length
Some installations may require increased hose lengths which may be purchased on a per foot basis. PVC pipe, which may be obtained at most home improvement or hardware stores, may also be substituted for longer hose sections.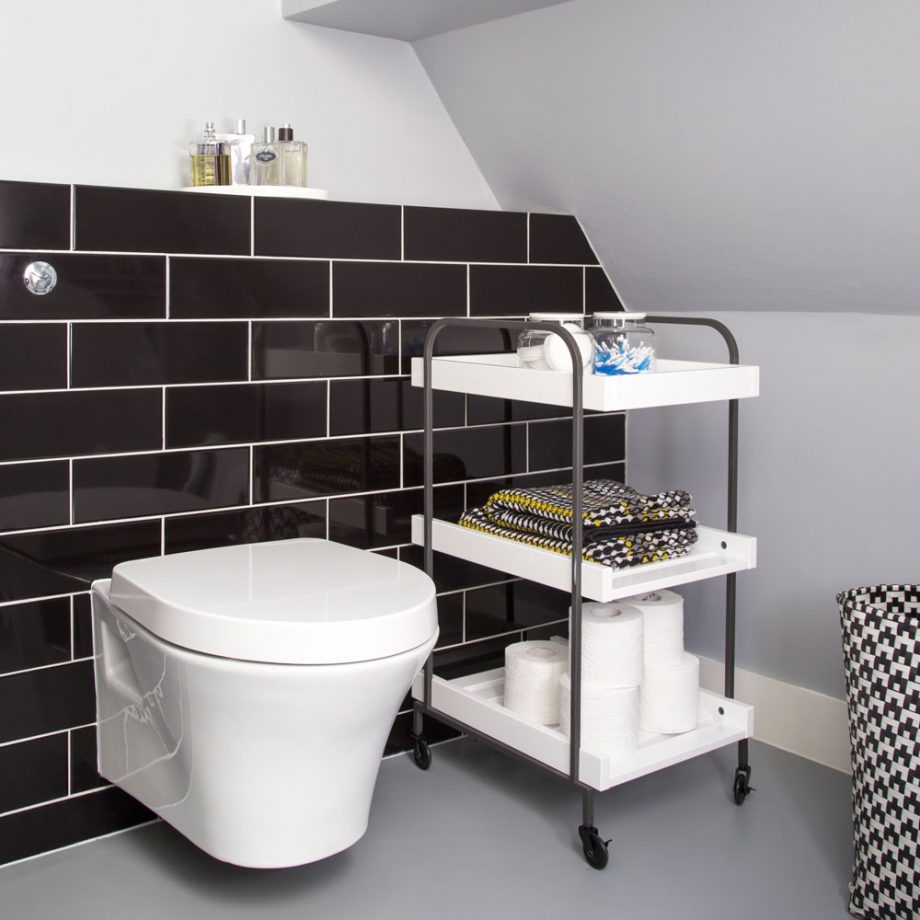 Squeeze an extra washroom into your extension, conversion or garden room for added versatility
Whether it's to ease the morning rush for the bathroom, prevent you having to traipse up flights of stairs, or simply for use when guests come to stay, an extra loo is always a useful addition. However, installing a new macerator toilet can sometimes be less straightforward than replacing an existing one. Fortunately, there are a few options for making your new convenience more convenient.
How to plan your plumbing
The ideal location for any additional loo is above or below an existing bathroom, so that it can connect to existing pipework and the soil and vent stack. However, if it's further away, one option is to add a new soil and vent stack either inside or outside your home, which works as long as there's a sewer that it can flow into.
What are the pros and cons of a macerator toilet?
Macerators create more noise than standard plumbing and can be prone to blockages from anything other than toilet tissue, but the great thing about them is that they enable you to install a loo almost anywhere you fancy. Installing a macerator pump is also cheaper and easier than extending your existing sewage system. Plus, they are a safe, hygienic means of waste disposal.
How to get planning permission
Adding a loo to your extension or conversion will rarely require Planning Permission unless your home is a listed building, but Building Regulations will apply to plumbing, drainage and ventilation.
How to budget for the garden
Any new pipework should be buried in your garden or insulated, so it doesn't freeze. You may be able to link to an existing soil drain or septic tank. A sewage pumping station with a macerator can also be used to remove waste – but you'll need to add electricity to power this. Allow £2,000-£6,000 to add a loo to a garden room. A 'dry' eco toilet can be a more affordable option but requires maintenance.